Finding A Friend
Available in paperback and as an ebook (compatible with Kindle Fire and iBooks): Amazon UK | Amazon.com | Matador Books | iBooks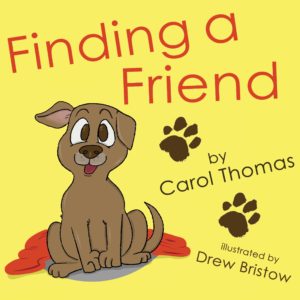 When Little Pup finds himself at the shelter,
he doesn't know quite what to do.
Big dogs all around, feeling lost and alone,
Little Pup needs a friend… but who?
"A delightfully written and wonderfully illustrated picture book, with a heart warming 'tail' of friendship."
M. Kidman, Class Teacher. 

ISBN 9781788033077
A note from the author: As an experienced primary school teacher and mother to four, I know the importance of inspiring a love of books from an early age. In Finding A Friend I bring my knowledge of developing early literacy skills together with an understanding of creating characters young children will connect with. From the engaging language to the emotive illustrations, Finding A Friend is a book created to encourage young children to actively participate in the reading experience.
Reviews: Amazon UK |  Goodreads | Matador Books | Waggy Tales Dog Blog | Emily Williams' Blog 
Press: