CRAZY OVER YOU
Available in paperback and as an ebook: Amazon.UK | Amazon.com

Love can drive you crazy… in more ways than one!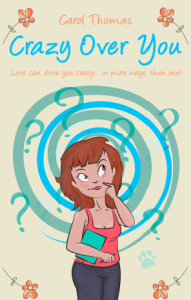 When Abby met Simon, it was the start of something special, a love Abby believed would last a lifetime…
A wedding, two daughters and fifteen years later, Abby's world is falling apart. Having discovered Simon has had an affair her normally ordered mind is spiralling out of control. Crushed by the betrayal and shocked by her own reaction, she knows she needs to get herself together. She's just not sure where to start.
With Simon on a mission to win her back and a close friend hiding a secret that could push her further over the edge, Abby finds strength and support where she least expects it. But as she attempts to gain control of her life and make decisions about her future, it may be more than the limits of Abby's mind that are put to the test!
Shop now: Amazon.UK | Amazon.com | Kobo | Matador books (use discount code ABBY) | WH Smiths | Waterstones |
Order direct from the author: Free postage (UK only). Signed copies available, please leave details at the checkout.
ISBN 9781784624330 | E-ISBN 9781784625924
---
My second novel is due to be published by Ruby Fiction, early in 2018.
---
To keep up to date with news about my books please check back on my website and follow me on Twitter and Facebook.